If you are having problems getting pregnant and think that fertility treatments are the way to go now, you should talk to your doctor first. She will be able to advise you about the fertility treatments that you could go for. She will probably start you off with a pill. They are generally the first course of action and more often than not, they work wonders for couples. If you look through the market you will find numerous fertility pills to choose from. You should learn about them so that you know which the top rated fertility pills are. Here are some of them explained for you. Claim Your 20 Free Pregnancy Tests – Click Here

Clomid
When it comes to fertility pills, Clomid are the most common, most popular, and usually most effective. Thanks to Clomid, a number of women have gotten pregnant successfully. In the market, you may find it under another name: Serophene. Clomid targets your ovulation and makes sure you produce more eggs than just one so that chances of conception are higher. Usually, the dose is for five days. Each day you should take around 50mg. The doctor will either ask you to take the pills from the third day of your menstrual cycle to the seventh day or from the fifth day to the ninth day. Clomid has mild side effects and they are more or less like the signs of pregnancy. More than 45 percent women have gotten pregnant within the first six doses of Clomid. The doctor will wait for six cycles and if you are still not pregnant, you will be given some other fertility pill or the doctor will recommend some other fertility treatment option for you.

Femara
Femara is also known as Letrozole. It works to induce ovulation and just like Clomid, it is taken for five days. Femara is actually a better choice because the side effects are fewer even when compared to Clomid, which itself has very few side effects. Multiple birth rate is higher in Clomid when compared to Femara.

Gonadotropin Injections
These are not really pills in technical terms but they are drugs and they are top-rated. Thus, knowing about them is very important for you. If you don't respond to Clomid, you may be given these injections. The brand names of gonadotropins include Novarel, Repronex, etc. You will be given these injections from day seven of your menstrual cycle to day twelve. These injections, just like Clomid, will work to make sure that more eggs are produced in your body. After that you will be given an hCG injection so that the eggs are released. It is this time that you should have sex. Like Clomid, these are recommended for six cycles. If you still don't get pregnant, the doctor will recommend something else. Chances of getting pregnant with multiples are high when you take gonadotropins. However, these drugs are extremely expensive.

ConceiveEasy TTC Kit
If you want a herbal and completely natural way of trying to get pregnant, you should try Conceiveeasy. These pills are also very popular and are also inexpensive when compared to the other top rated pills and treatment options for you. It is an ideal pill for you if you don't want chemical alternatives. With 12 monthly blends this reproductive support system follows you from the beginning of your TTC journey to the very end. And with every purchase of the pills, you will receive helpful tools like ovulation predictor kits, pregnancy tests, and a BBT thermometer.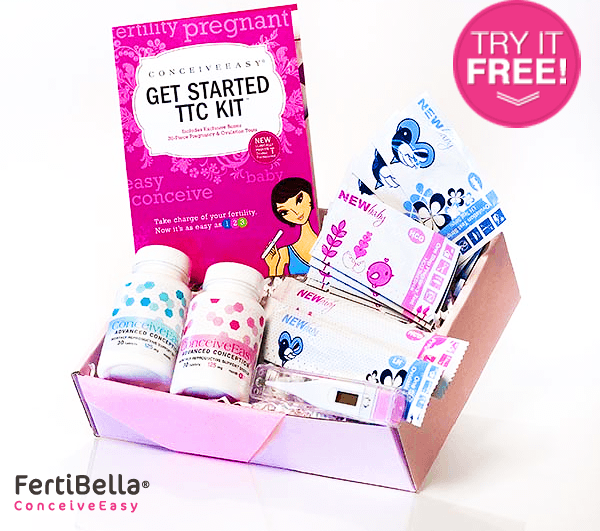 ConceiveEasy® TTC Kit™ is the most complete fertility system available over the counter. Clinically proven to dramatically increase your chances of conception and help you get pregnant fast from the very first use. And now for a limited time, Try a FREE starter pack today & receive a FREE Digital BBT Thermometer and 20 FREE pregnancy tests!